Make Your Own Household Powdered Cleanser Shaker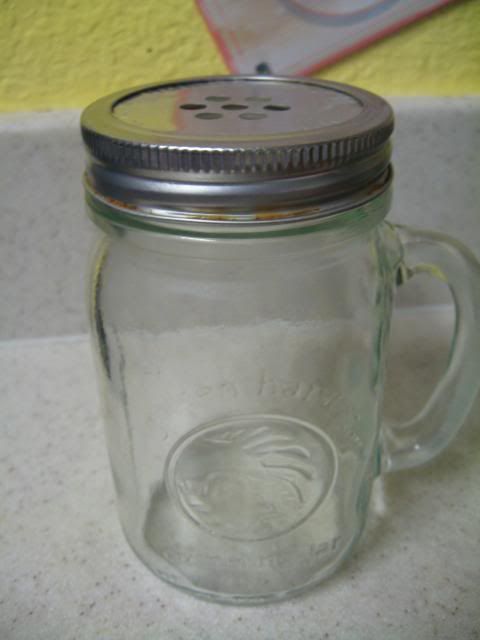 One of the hardest things about making your own products from scratch often is the container or mode of delivery not equaling those of manufactured store-bought items. Let's face it. Most containers, boxes, bottles, etc of store-bought items have nifty details that make cleaning, cooking, or whatever you're doing, easier and more effective. So, if you're a do-it-yourselfer, that leaves you with 2 choices: either buy a product with a reusable container that you can use when the initial product is gone (I have purchased products JUST for the container) or make something that will do the job.
This household powdered cleanser shaker is easy and fast to make from an empty cleanser container. If you never, ever purchase a store-bought cleaner, have a friend or family member save an empty container for you. All you need is a mason jar, a ring (you can reuse rings that are no longer suitable for canning), a can opener, and an existing powder cleanser shaker container. I've also included a quick and easy recipe for an all-purpose household cleanser powder.
What you need:
Mason Jar
Jar canning ring
Can opener
Powder Cleaner Shaker Container with METAL top – Empty
Clean the top of the empty powder cleaner container.
Use a can opener to cut the metal shaker top from the can. For most cardboard type powder cleaner containers, the can opener cuts the shaker top to the exact measurements of the top of a regular mouth mason jar (I used a pint jar, 16 ounces). Be careful. The container lid may be sharp.
Place the metal shaker top on top of a mason jar.
Screw down the ring.
Easy Household All-Purpose Powdered Cleanser
1 cup baking soda
1 cup table salt
1 cup borax
Mix well. Use as you would any all-purpose powdered household cleaner.
Look for other helpful, handy projects in my Index of Entries: http://angelinehawkes.livejournal.com/180046.html
Homemade Biodegradable Fiber Seed-Starting/Transplanting Pots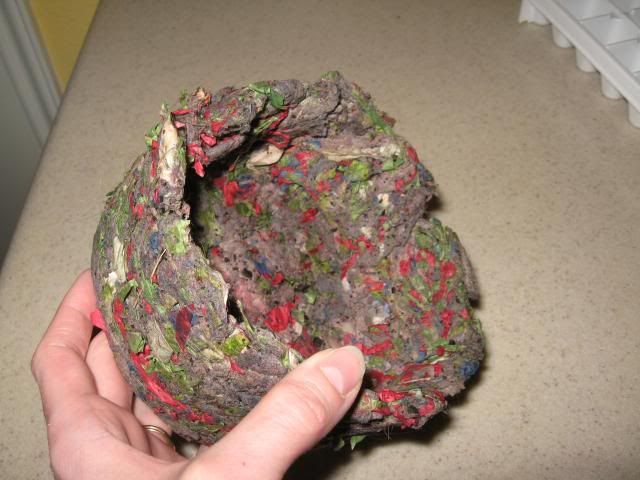 In a previous blog entry, I wrote about how to
make your own seed starter box
from a biodegradable egg carton. This entry takes that concept a little further. If you're like me and start your seeds early indoors, sometimes the seedling begins to outgrow the little egg cup and needs transplanted to yet a larger pot before it can be moved to the garden.
Many seed and garden companies sell biodegradable fiber pots, but why buy something you can make for mere pennies? Sure, the homemade versions might not LOOK as pretty and uniform as they do when you buy them, but who has money to just bury in the ground? Using the lint from your dryer, newsprint or tissue paper, and other natural throw-aways such as egg shells or coffee grounds, you can create your own fiber pots in any size you desire.
What you need:
Dryer lint (about a grocery sack full)
Shredded newsprint or tissue paper
Coffee grounds * optional
Egg shells (ground finely) *optional
Liquid starch
Large bowl
Plate
2 bowls that will "nest"
Plastic cup
In a very large bowl, place the dryer lint and shredded newsprint and/or tissue paper. I cut the tissue paper I used into narrow strips because it was faster. If you use tissue paper, be warned that colored paper will bleed dye when it gets wet with the starch.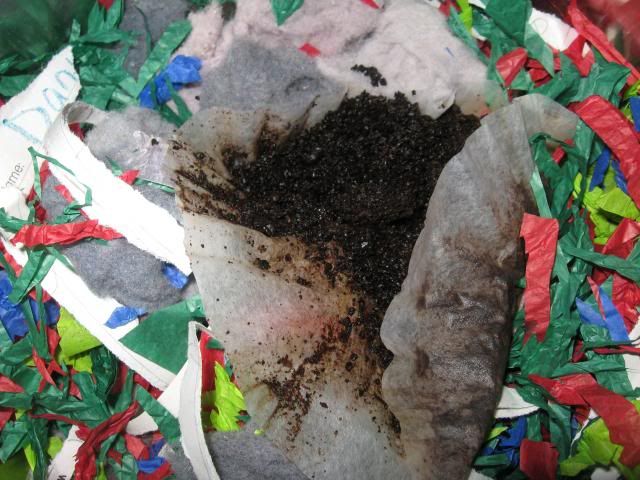 You can add coffee grounds or finely ground egg shells if you desire as well. (The coffee filter can go in too, just shred it up into strips first).
Add about 1 cup of liquid starch. You can find liquid starch in the laundry aisle in grocery stores, drug stores, and dollar stores. Do NOT dilute the starch. Use it straight from the bottle.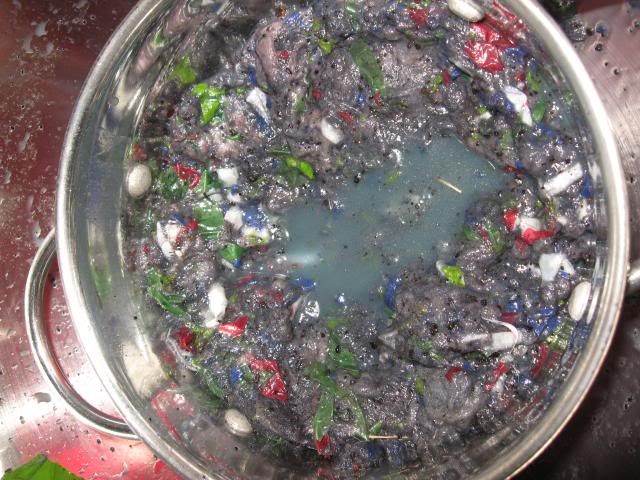 Mix the ingredients well using your hand to squish it all together. Add more starch in ½ cups as needed to make a paste-like consistency. Place a bowl on top of a plate. I'm using a plastic food storage container. Any container will work. Choose one that is the size you want your fiber pot to be. The pot will shrink some while drying, so overestimate rather than underestimate. Dump the goopy mixture into the bowl.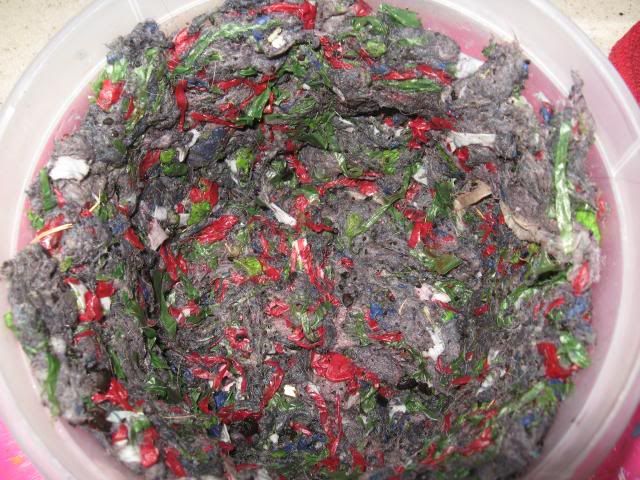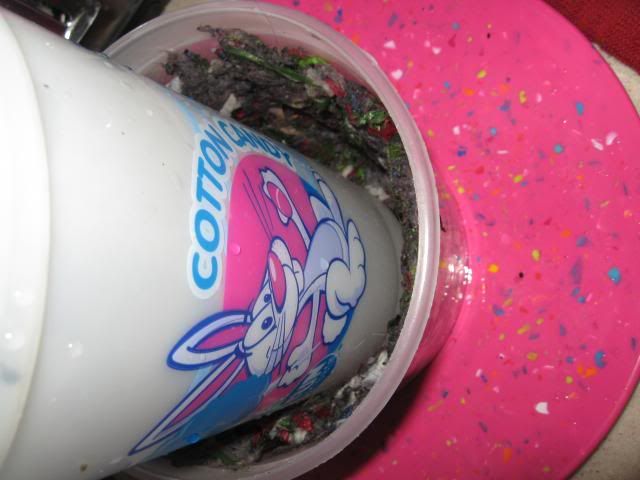 Use your hands to spread the mixture up the sides of the bowl, making a depression that is "bowl-shaped". Put your hand into a plastic cup (like you get from restaurants) and use it to "roll" the sides flat, and to flatten the bottom inside of your fiber pot.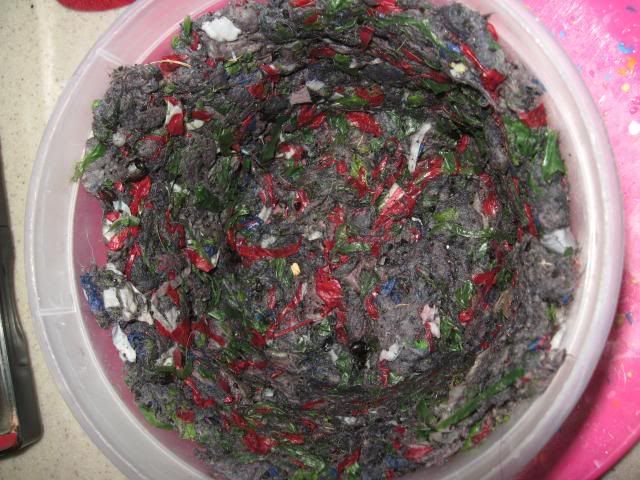 When the fiber pot has taken shape inside of the container, set it aside for 24 hours to dry.
Place a smaller bowl inside of the fiber pot that is partially dry now. Place the plate over the top of the container holding the partially dried fiber pot.
Invert the bowls/containers on top of the plate and allow to dry for 48 hours. The lint and starch and paper are dense and soak up the starch requiring a lot of drying time.
Slowly and carefully remove the top container, leaving the fiber pot, the inside smaller bowl (as a brace) on the plate for another 24 hours.
When the outside of the fiber pot is dry to the touch, pick it up carefully, removing it from the smaller bowl inside. Turn it right side up on top of the plate. If the inside is still damp allow it to sit on the plate and air dry until the fiber pot is entirely dry.
Fill with potting soil/mixture, transplant your seedling. When you water your seedling, do not over water, and make sure the fiber pot is on or in another container. Try to avoid getting too much water on the sides of the pot. When it is time to transplant the seedling/plant, place the entire fiber pot into the soil and cover. The fiber pot will dissolve and degrade in the soil.
Look for other helpful, handy projects in my Index of Entries: http://angelinehawkes.livejournal.com/180046.html
Got Sauce? Homemade Barbeque Sauce


I shop to stock my pantry instead of shopping to fill a specific menu on a nightly or weekly basis. Staples are bought as they go on sale or in bulk so I always have on hand what is needed. Sometimes I cheat and buy pre-made sauces, such as barbeque sauce. Occasionally I find I don't have a store-bought item stocked, so it is necessary to make my own for whatever I have planned for the night's dinner.
This barbeque sauce contains typical ingredients found in most kitchens. Cooking time is about an hour. The longer you cook it, the more it will thicken. It can be stored in the refrigerator an airtight container, such as a canning jar (Mason jar) or recycled jar, for about a month. Usually I double this recipe because I am feeding a small army. When doubling the recipe, I increase the water from 2 cups to 3 cups to begin with and then add up to 1 cup more only if the sauce thickens more than I prefer.
Ingredients:
2 Tbs butter
2 Tbs onion powder
2 Tbs garlic powder
¼ tsp salt
1 Tbs chili powder
4 Tbs brown sugar
4 Tbs vinegar
4Tbs Worcestershire sauce
1 c ketchup
1 tsp Tabasco or other similar hot sauce
1 tsp yellow mustard
2 cups water
6 oz can tomato paste
Add all ingredients except the can of tomato paste to a medium size (4 cups+) sauce pan. Bring to a boil, mixing with a wire whip until all ingredients are blended. Once the sauce has been brought to a rolling boil, reduce the heat and simmer uncovered for 30 minutes. Stir occasionally and check to make sure the sauce is not scalding. Add the tomato paste, mixing well with a wire whip. Simmer uncover for 30 minutes or until sauce has cooked down to the desired thickness. Use in recipes hot or cool first, according to your needs.
Christopher Fulbright and I will be guests at ConDFW (Feb 21-23) in Addison, TX this Saturday. If you're in the area, we'd love to see you!
Here are our schedules for Saturday (we'll only be in attendance on Saturday): 2014 Guests of Honor -- Author: Kevin J. Anderson; Artist: Alain Viesca
Angeline Hawkes:
12 pm -- Predicting the Near Future
1 pm -- Size Matters! Monsters in Fiction
3 pm -- autographs/signings
4 pm -- Star Wars vs. Star Trek: The Epic Battle (I am on Team Star Trek)

Christopher Fulbright:
2 pm -- The Return of Heroic Fantasy
3 pm -- signing/autographs
6 pm -- Horror 101: Exploring the Sub-genres
We'd love to see you there! (We will have limited copies of our books available for purchase/signing at our signing session).
THE DEVIL BEHIND ME
, the newest
FULBRIGHT & HAWKES
novella from DARK REGIONS PRESS is available as a Kindle Countdown Deal for the next 6 days.
Alex Brandt's life is the stuff of lore and legend, but not the fairytale one would welcome. The sole survivor of the Krampusnacht Massacre, Alex was shipped away to America on the heels of tragedy. Childhood trauma followed him to an adulthood plagued with fear and self-doubt. The horror of his past affects him so deeply each holiday season that his girlfriend urges him to resolve his issues once and for all.
Seeking closure to the Christmas tragedy, with the help of his uncle and a retired German police officer, Alex returns to the scene of the crime in Bavaria. But what lurks in the Alpine darkness on the snow-swept mountain slopes knows Alex has come back, and it's seeking some closure of its own…
"Fulbright and Hawkes add murder to the mix, along with an old witch, some kinky sex, and ultimately a dramatic confrontation with evil itself. THE DEVIL BEHIND ME races along at a very satisfying pace, and it's creepy enough to satisfy any fan of horror fiction. I enjoyed it and think it's well worth reading." -
James Reasoner, Spur Award nominee, author of Texas Wind and Redemption Kansas
Buzz for other works:
"Fulbright and Hawkes bite all the way to the bone!"- Jonathan Maberry, New York Times bestselling author of Fall of Night and Marvel Universe vs. The Avengers


"Required reading for the discerning horror connoisseur." - Joe McKinney, Bram Stoker Award winner and author of The Savage Dead


"Fulbright and Hawkes don't deliver the devil's child, exactly, here...but they do deliver something deliciously wicked: a bloody good read!" - John Everson, Bram Stoker Award winner and author of Violet Eyes


Make Your Own Lotion Sticks Without All the Chemicals
I love lotion sticks. They're less messy – no wet hands, no spills, easily transported in your purse or when traveling. Lotion sticks are also easy to make! I order the ingredients in batches because there are many products you can make with them and I like having them on hand for when inspiration hits. You can add your preferred fragrance to the lotion sticks -- customizing each stick for a male or female. I like lavender or eucalyptus for gender-neutral fragrances.
What you'll need:
Molds or empty deodorant style swivel up containers (I buy mine on Amazon.
http://www.amazon.com/Deodorant-Containers-New-Empty-Pack/dp/B00CMF4CIM
)
2 - Glass measuring cups or microwavable dishes
Plastic utensils (I use plastic flatware)
Microwave
Kitchen scale * optional
4 ounces beeswax (I buy mine from an ebay seller or from his website:
www.millcreekhoney.com
)
4 ounces coconut oil
4 ounces cocoa butter (Again, I buy mine from an ebay seller:
http://www.ebay.com/itm/290825820042?var=590091683062&ssPageName=STRK:MEWNX:IT&_trksid=p3984.m1439.l2649
)
Essential oil * optional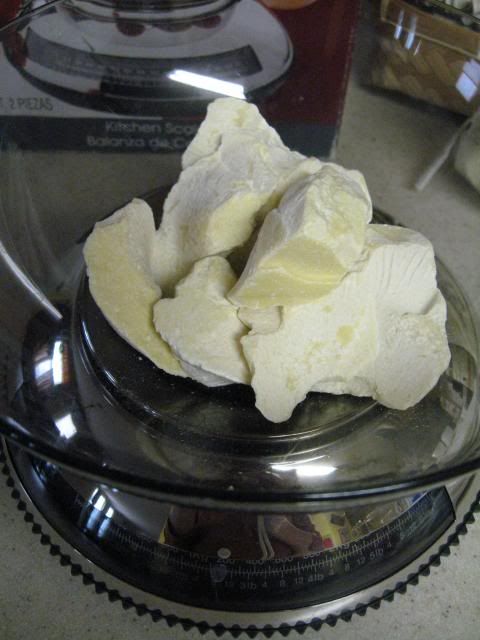 Weigh and measure your ingredients if they aren't labeled so you have exact amounts. I use a kitchen scale.
Place the beeswax into a microwavable, glass measuring cup and melt it, in the microwave, until melted. I heat mine in 1 minute intervals and watch it closely.
I preheat my oven and turn it off. Then I crack the door and place the glass measuring cup inside to stay melted while I melt the other ingredients.
Place the measured cocoa butter and coconut oil into the second glass microwavable cup. Microwave until melted. Again, I melt in 1 minute intervals, stirring if necessary.
Once all ingredients are melted, pour one of the cups into the other. Stir until mixed.
Allow the mixture to cool for about 15 minutes. Add as much fragrance as you desire. It will smell stronger while the lotion is in liquid form than it will once it solidifies into the lotion stick. Stir to mix well.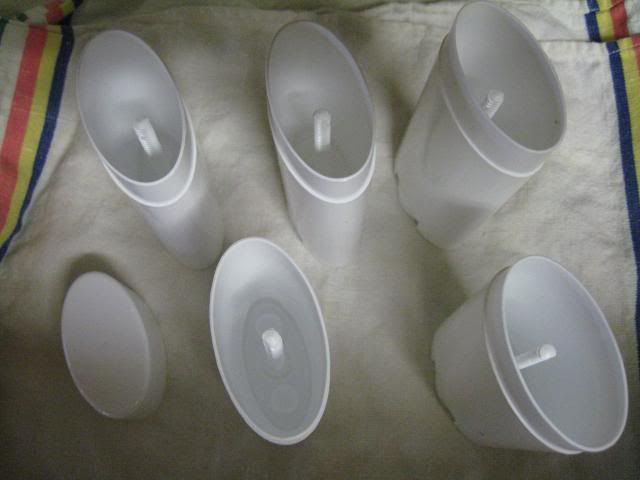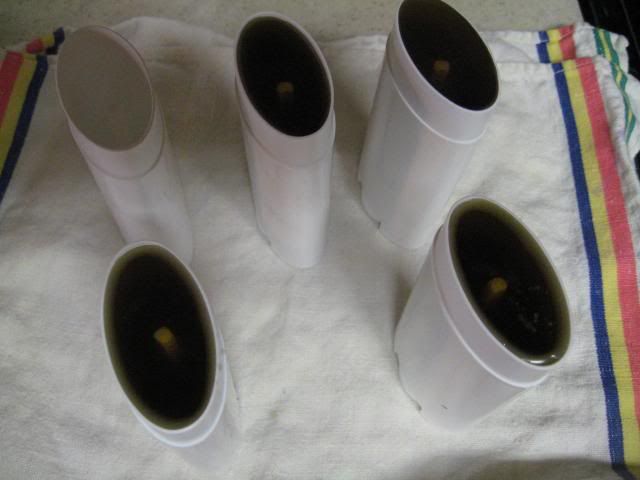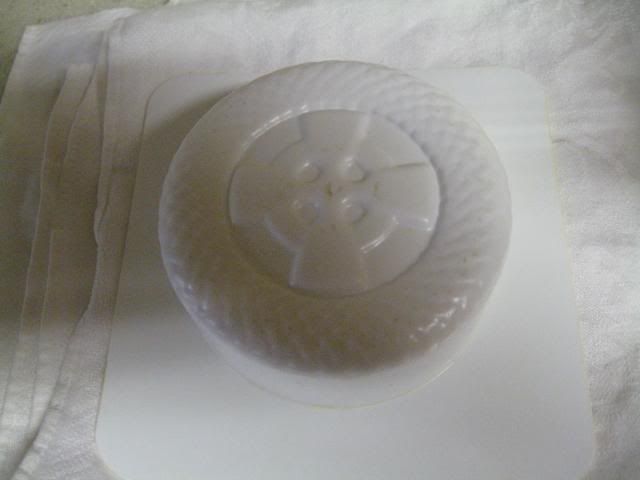 Pour the mixture into your molds or empty deodorant style containers. Wait about a minute and then top off the containers with any remaining mix.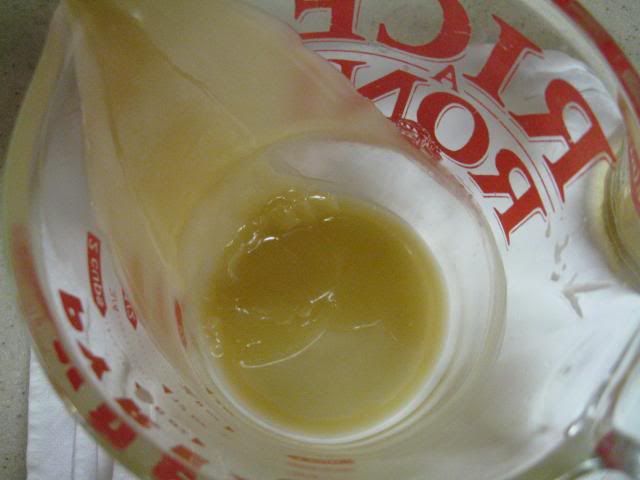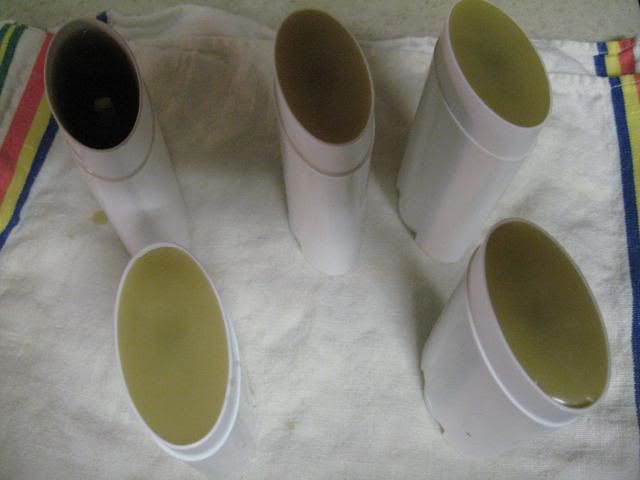 As it solidifies, the lotion stick shrinks up a little bit. If the remaining lotion mixture thickens while you're filling the containers, just pop it in the microwave for about 15 seconds or until it melts again.
In about an hour the lotion sticks will begin to change color as they solidify. Allow the lotion sticks to cure for 1-2 days before use.
THE DEVIL BEHIND ME

by Christopher Fulbright & Angeline Hawkes
http://www.amazon.com/gp/product/B00GWZKMT6/ref=as_li_ss_tl?ie=UTF8&camp=1789&creative=390957&creativeASIN=B00GWZKMT6&linkCode=as2&tag=christofulbri-20
A new novella from the
authors
of
Scavengers
and
Sorrow Creek
is now available on the Amazon Kindle store as a Dark Regions Digital exclusive for just $2.99!
Alex Brandt's life is the stuff of lore and legend, but not the fairytale one would welcome. The sole survivor of the Krampusnacht Massacre, Alex was shipped away to America on the heels of tragedy. Childhood trauma followed him to an adulthood plagued with fear and self-doubt. The horror of his past affects him so deeply each holiday season that his girlfriend urges him to resolve his issues once and for all.
Seeking closure to the Christmas tragedy, with the help of his uncle and a retired German police officer, Alex returns to the scene of the crime in Bavaria. But what lurks in the Alpine darkness on the snow-swept mountain slopes knows Alex has come back, and it's seeking some closure of its own…
Congratulations to Kimberly Yerina who won the Dark Regions Halloween contest to be featured as a character in THE DEVIL BEHIND ME!
Catch our Halloween Treat!




Christopher Fulbright and my 2007 novella BLOOD COVEN is available for 99 cents. The novella has been reformatted and updated with a spanking new cover.

Check it out! http://www.amazon.com/gp/product/B004QGYK82/ref=as_li_ss_tl?ie=UTF8&tag=christofulbri-20&linkCode=as2&camp=1789&creative=390957&creativeASIN=B004QGYK82
On the filthy streets of Victorian London's East End, a centuries-old evil is amassing its forces. Only one man stands in its way: a legendary vampire killer called The Catcher. Trained from childhood by a secret society, he's fast, efficient, and deadly. He's also totally on his own, working undercover in the darkest quarter of the city, facing the closest thing to death he's ever known.
"
Blood Coven
is an action packed ride as good battles evil and fangs fight knives in a last-man-standing free-for-all between the brood of an ancient vampire queen and the deadliest vampire killer in all London. Lots of fun for those with a taste for bloody adventure."
--
Robert Weinberg
, Arkham House editor and author of
Vampire: The Masquerade of the Red Death
(This novella was previously published in 2007 by Dead Letter Press in a limited print edition of 100 copies, plus an exclusive lettered edition. The text has not been modified from the original edition.)
Check out
Christopher Fulbright
and me (
Angeline Hawkes
)'s latest updates and upcoming works at our website
Fulbright & Hawkes
! And if you haven't already followed us, follow us on Twitter
https://twitter.com/FulbrightHawkes
BLOOD

ALONE by Angeline Hawkes Available now in Print/Ebook
Morven the Black: once a Crusader, now a Vampyre of Kasimir blood, bides his time, building his army with dying soldiers gleaned from history's battlefields.
Then should the Vampyre come -- the winged one, the black one, to possess the Eye of Holdair; and there shall be among his seed a great race of Vampyre who need not quench their thirst with the blood of humanity, and who walk in the sunlight impervious to the death it brings to their kind. These Vampyre the winged one will birth until an army of Sun Walkers shall hold sway over all Kasimir. – The Book of Inais. The Great Scrolls
In an archeological adventure spanning history, Morven the Black, seeks the legendary amulet, the Eye of Holdair, which grants the wearer mastery over bloodlust and the ability to breed children unaffected by the sun.
Blood Alone is beset with Kasimir witches and warlocks, and armies of Vampyre – all vying to alter the fate of the world. The prophecies foretell of a Vampyre who will unite the Vampyre Houses and rule over the Kasimir, dominating even human kind – bringing the creatures of the night out of the shadows forever.

Be sure to sign up for the chance to win A FREE PRINT COPY of BLOOD ALONE from GOODREADS!
https://www.goodreads.com/book/show/18664328-blood-alone

About the Author:
Angeline Hawkes holds a B.A. in Composite English Language Arts and Secondary Education from Texas A&M University-Commerce. She is a former high school teacher. Look for Angeline's upcoming collection from Bad Moon Books, Inferno: Tales of Hell and Horror -- and Fulbright & Hawkes novella, The Devil Behind Me, coming from Dark Regions Press. Her collection, The Commandments, was a Bram Stoker award finalist. Angeline's story, "In Waters Black the Lost Ones Sleep", appears in the Origins award-nominated Chaosium anthology, Frontier Cthulhu. Recent fiction includes Sorrow Creek and Black Mercy Falls -- and the upcoming Elder Wood Manor, Delirium Books novellas, co-written with Christopher Fulbright. Bad Moon Books published Angeline's sword and sorcery collection, Out of the Garden and Other Tales of the Barbarian Kabar of El Hazzar. Scavengers, a novel from Elder Signs Press, is another Fulbright and Hawkes collaboration. Angeline has seen the publication of novels, novellas, collections, fiction in 40 anthologies, and over 100 short fiction publications. She is a former active member of HWA and of the Robert E. Howard UPA. Visit her websites at www.angelinehawkes.com and www.fulbrightandhawkes.com.