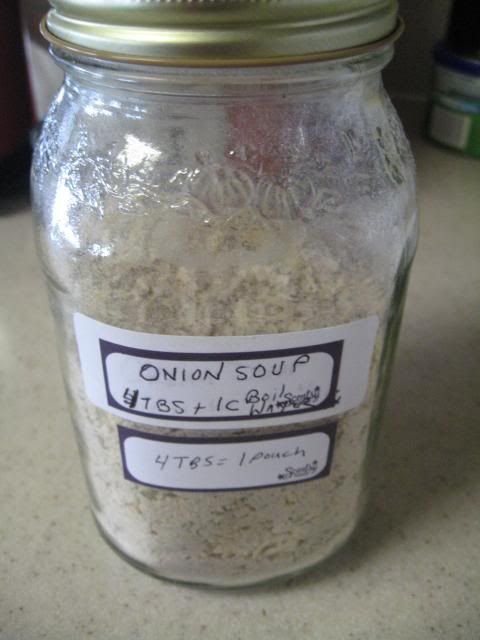 You ever get tired of trying to pronounce all of the "mystery" ingredients in products you use frequently? I do. I want to know what I'm feeding my family and what I'm putting into my own body. Onion soup mix is a perfect example. You know the kind -- you buy it in pouches -- to make dips, add to soups and recipes, etc. The standard pouches hold about 1 ounce each, and come in 2 ounce boxes (2 pouches per box), sold by different brands, and sometimes in larger "cooking & baking" type pouches. One 2 pouch box is about 1.25-1.50 depending on the brand you purchase. So, about 64 cents an ounce. Seems steep for a bunch of powdered onions. But, my biggest issue is with the ingredients.
Here are the ingredients for Lipton Onion Soup Mix:
Ingredients:
Onions (Dehydrated), Salt, Cornstarch, Onion Powder, Sugar, Corn Syrup (Dehydrated), Hydrolyzed Soy Protein, Caramel Color, Partially Hydrogenated Soybean Oil, Monosodium Glutamate, Yeast Extract, Natural Flavors, Disodium Inosinate, Disodium Guanylate.
Read about these here:
Monosodium Glutamate (MSG):
http://en.wikipedia.org/wiki/Monosodium_glutamate
Disodium Inosinate:
http://en.wikipedia.org/wiki/Disodium_inosinate
Disodium Guanylate:
http://en.wikipedia.org/wiki/Disodium_guanylate
Basically a whole bunch of fillers...which equals a whole bunch of crap you don't need. Cornstarch and Corn syrup are thickeners. Caramel color is just for aesthetic value -- I personally will sacrifice the picture perfect brown hue of onion soup in exchange for knowing what all the ingredients are without having to google or have a degree in chemistry!
So, here's a better alternative to buying pouches full of sodium, and mono-this and oils-that!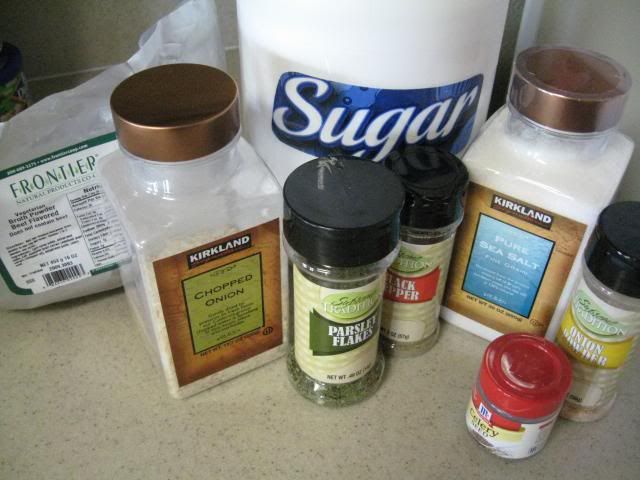 What you need:

1 tsp parsley flakes
1 tsp salt
1 tsp black pepper
8 tsp onion powder
1/2 tsp celery seed
1 1/2 cup minced dried onions
2/3 cup beef bouillon powder
1/2 tsp sugar
1 pint jar or larger with screw on lid (that closes tightly) or similar container
Funnel *optional
Adhesive label *optional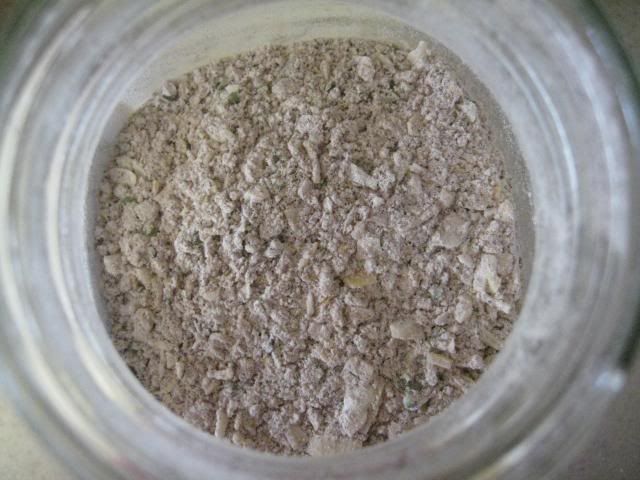 Pour all of the ingredients into your jar or container. Tightly screw on the lid. Shake vigorously to mix. Add 4 Tablespoons in place of 1 pouch in recipes. If using as a bowl of soup, add 4 Tablespoons to 1 cup of boiling water, or to 1 1/2 cup water brought to a boil and simmered for 10 minutes. I add an adhesive label to the side noting what is in my jar (since I make a lot of my own mixes, etc) and that 1 pouch = 4 TBSP.

Beef bouillon powder can be found in grocery stores or online. The powder featured in the photo is actually vegetarian beef FLAVORED bouillon powder. It tastes the same as regular beef bouillon, but I had Amazon points on my Amazon card so I was able to get this bag free. Vegetarian or regular beef bouillon powder both work equally well. I also buy my minced onions at the dollar store or in bulk as I use a lot of them in my cooking. Same goes with parsley and black pepper -- both of which can be purchased inexpensively at the dollar store or in bulk. For the most part, most home pantries have these ingredients with exception of the bouillon powder. You could even crush the cubes if that's all you have on hand. Bouillon powder is also available in Kosher formulas.

The best part about this recipe is: I can pronounce everything in it and I didn't have to Google any ingredient!