THE DEVIL BEHIND ME

by Christopher Fulbright & Angeline Hawkes
http://www.amazon.com/gp/product/B00GWZKMT6/ref=as_li_ss_tl?ie=UTF8&camp=1789&creative=390957&creativeASIN=B00GWZKMT6&linkCode=as2&tag=christofulbri-20
A new novella from the
authors
of
Scavengers
and
Sorrow Creek
is now available on the Amazon Kindle store as a Dark Regions Digital exclusive for just $2.99!
Alex Brandt's life is the stuff of lore and legend, but not the fairytale one would welcome. The sole survivor of the Krampusnacht Massacre, Alex was shipped away to America on the heels of tragedy. Childhood trauma followed him to an adulthood plagued with fear and self-doubt. The horror of his past affects him so deeply each holiday season that his girlfriend urges him to resolve his issues once and for all.
Seeking closure to the Christmas tragedy, with the help of his uncle and a retired German police officer, Alex returns to the scene of the crime in Bavaria. But what lurks in the Alpine darkness on the snow-swept mountain slopes knows Alex has come back, and it's seeking some closure of its own…
Congratulations to Kimberly Yerina who won the Dark Regions Halloween contest to be featured as a character in THE DEVIL BEHIND ME!
Catch our Halloween Treat!




Christopher Fulbright and my 2007 novella BLOOD COVEN is available for 99 cents. The novella has been reformatted and updated with a spanking new cover.

Check it out! http://www.amazon.com/gp/product/B004QGYK82/ref=as_li_ss_tl?ie=UTF8&tag=christofulbri-20&linkCode=as2&camp=1789&creative=390957&creativeASIN=B004QGYK82
On the filthy streets of Victorian London's East End, a centuries-old evil is amassing its forces. Only one man stands in its way: a legendary vampire killer called The Catcher. Trained from childhood by a secret society, he's fast, efficient, and deadly. He's also totally on his own, working undercover in the darkest quarter of the city, facing the closest thing to death he's ever known.
"
Blood Coven
is an action packed ride as good battles evil and fangs fight knives in a last-man-standing free-for-all between the brood of an ancient vampire queen and the deadliest vampire killer in all London. Lots of fun for those with a taste for bloody adventure."
--
Robert Weinberg
, Arkham House editor and author of
Vampire: The Masquerade of the Red Death
(This novella was previously published in 2007 by Dead Letter Press in a limited print edition of 100 copies, plus an exclusive lettered edition. The text has not been modified from the original edition.)
Check out
Christopher Fulbright
and me (
Angeline Hawkes
)'s latest updates and upcoming works at our website
Fulbright & Hawkes
! And if you haven't already followed us, follow us on Twitter
https://twitter.com/FulbrightHawkes
BLOOD

ALONE by Angeline Hawkes Available now in Print/Ebook
Morven the Black: once a Crusader, now a Vampyre of Kasimir blood, bides his time, building his army with dying soldiers gleaned from history's battlefields.
Then should the Vampyre come -- the winged one, the black one, to possess the Eye of Holdair; and there shall be among his seed a great race of Vampyre who need not quench their thirst with the blood of humanity, and who walk in the sunlight impervious to the death it brings to their kind. These Vampyre the winged one will birth until an army of Sun Walkers shall hold sway over all Kasimir. – The Book of Inais. The Great Scrolls
In an archeological adventure spanning history, Morven the Black, seeks the legendary amulet, the Eye of Holdair, which grants the wearer mastery over bloodlust and the ability to breed children unaffected by the sun.
Blood Alone is beset with Kasimir witches and warlocks, and armies of Vampyre – all vying to alter the fate of the world. The prophecies foretell of a Vampyre who will unite the Vampyre Houses and rule over the Kasimir, dominating even human kind – bringing the creatures of the night out of the shadows forever.

Be sure to sign up for the chance to win A FREE PRINT COPY of BLOOD ALONE from GOODREADS!
https://www.goodreads.com/book/show/18664328-blood-alone

About the Author:
Angeline Hawkes holds a B.A. in Composite English Language Arts and Secondary Education from Texas A&M University-Commerce. She is a former high school teacher. Look for Angeline's upcoming collection from Bad Moon Books, Inferno: Tales of Hell and Horror -- and Fulbright & Hawkes novella, The Devil Behind Me, coming from Dark Regions Press. Her collection, The Commandments, was a Bram Stoker award finalist. Angeline's story, "In Waters Black the Lost Ones Sleep", appears in the Origins award-nominated Chaosium anthology, Frontier Cthulhu. Recent fiction includes Sorrow Creek and Black Mercy Falls -- and the upcoming Elder Wood Manor, Delirium Books novellas, co-written with Christopher Fulbright. Bad Moon Books published Angeline's sword and sorcery collection, Out of the Garden and Other Tales of the Barbarian Kabar of El Hazzar. Scavengers, a novel from Elder Signs Press, is another Fulbright and Hawkes collaboration. Angeline has seen the publication of novels, novellas, collections, fiction in 40 anthologies, and over 100 short fiction publications. She is a former active member of HWA and of the Robert E. Howard UPA. Visit her websites at www.angelinehawkes.com and www.fulbrightandhawkes.com.

I've been sewing since March!
Hundreds of choices of doll clothes to fit 18-inch dolls such as American Girl, Journey Girls, Madam Alexander, Michael's brand, etc. 2 piece outfits, aprons, sets, Hope Chest set, 18-inch cloth dolls (Caucasian and Asian), stuffed bunnies! Check out my Public album on Facebook for purchasing! Reasonable prices, free shipping (US ONLY), and made in the USA :)
https://www.facebook.com/angelinehawkes/media_set?set=a.10151878067699042.1073741828.635769041&type=3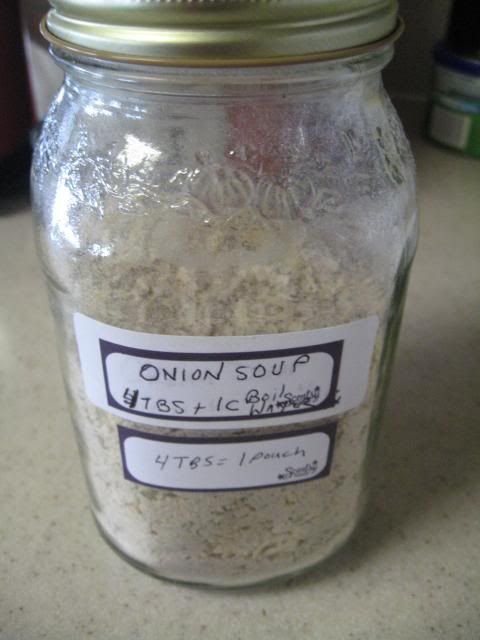 You ever get tired of trying to pronounce all of the "mystery" ingredients in products you use frequently? I do. I want to know what I'm feeding my family and what I'm putting into my own body. Onion soup mix is a perfect example. You know the kind -- you buy it in pouches -- to make dips, add to soups and recipes, etc. The standard pouches hold about 1 ounce each, and come in 2 ounce boxes (2 pouches per box), sold by different brands, and sometimes in larger "cooking & baking" type pouches. One 2 pouch box is about 1.25-1.50 depending on the brand you purchase. So, about 64 cents an ounce. Seems steep for a bunch of powdered onions. But, my biggest issue is with the ingredients.
Here are the ingredients for Lipton Onion Soup Mix:
Ingredients:
Onions (Dehydrated), Salt, Cornstarch, Onion Powder, Sugar, Corn Syrup (Dehydrated), Hydrolyzed Soy Protein, Caramel Color, Partially Hydrogenated Soybean Oil, Monosodium Glutamate, Yeast Extract, Natural Flavors, Disodium Inosinate, Disodium Guanylate.
Read about these here:
Monosodium Glutamate (MSG):
http://en.wikipedia.org/wiki/Monosodium_glutamate
Disodium Inosinate:
http://en.wikipedia.org/wiki/Disodium_inosinate
Disodium Guanylate:
http://en.wikipedia.org/wiki/Disodium_guanylate
Basically a whole bunch of fillers...which equals a whole bunch of crap you don't need. Cornstarch and Corn syrup are thickeners. Caramel color is just for aesthetic value -- I personally will sacrifice the picture perfect brown hue of onion soup in exchange for knowing what all the ingredients are without having to google or have a degree in chemistry!
So, here's a better alternative to buying pouches full of sodium, and mono-this and oils-that!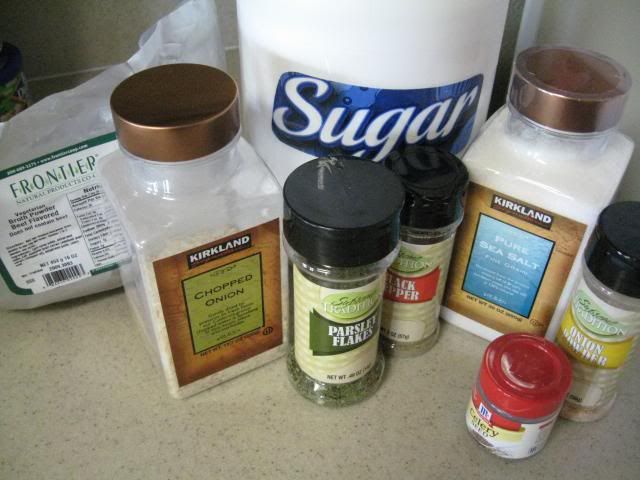 What you need:

1 tsp parsley flakes
1 tsp salt
1 tsp black pepper
8 tsp onion powder
1/2 tsp celery seed
1 1/2 cup minced dried onions
2/3 cup beef bouillon powder
1/2 tsp sugar
1 pint jar or larger with screw on lid (that closes tightly) or similar container
Funnel *optional
Adhesive label *optional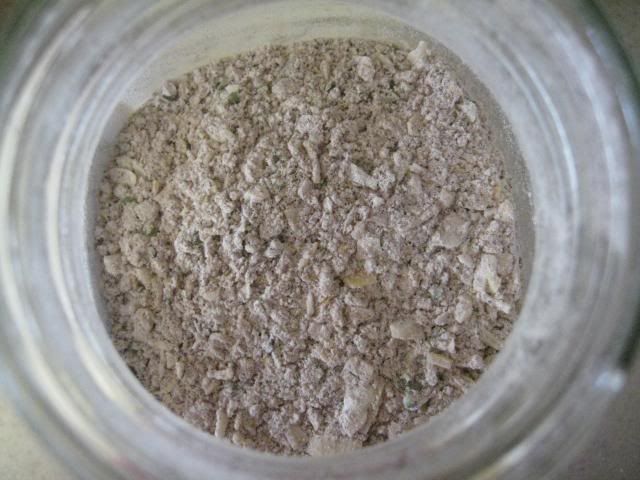 Pour all of the ingredients into your jar or container. Tightly screw on the lid. Shake vigorously to mix. Add 4 Tablespoons in place of 1 pouch in recipes. If using as a bowl of soup, add 4 Tablespoons to 1 cup of boiling water, or to 1 1/2 cup water brought to a boil and simmered for 10 minutes. I add an adhesive label to the side noting what is in my jar (since I make a lot of my own mixes, etc) and that 1 pouch = 4 TBSP.

Beef bouillon powder can be found in grocery stores or online. The powder featured in the photo is actually vegetarian beef FLAVORED bouillon powder. It tastes the same as regular beef bouillon, but I had Amazon points on my Amazon card so I was able to get this bag free. Vegetarian or regular beef bouillon powder both work equally well. I also buy my minced onions at the dollar store or in bulk as I use a lot of them in my cooking. Same goes with parsley and black pepper -- both of which can be purchased inexpensively at the dollar store or in bulk. For the most part, most home pantries have these ingredients with exception of the bouillon powder. You could even crush the cubes if that's all you have on hand. Bouillon powder is also available in Kosher formulas.

The best part about this recipe is: I can pronounce everything in it and I didn't have to Google any ingredient!

Journal Index of Household Tips, Recipes & Teaching Techniques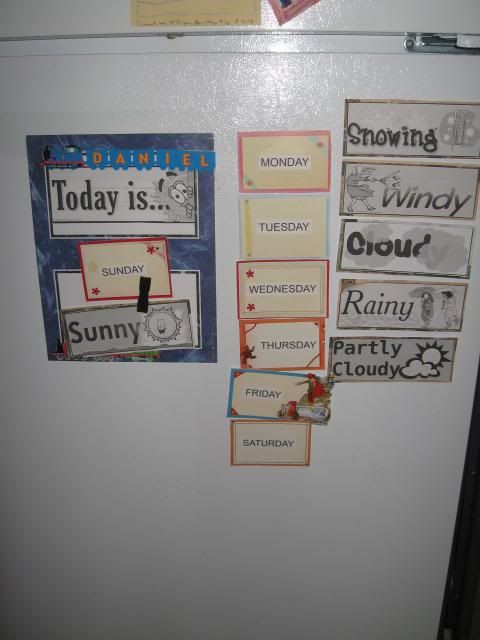 Children learn by repetition. Recite the days of the week at least once a day with your child, while reinforcing the concept by placing a magnet featuring today's day on the refrigerator (or other metal surface in a high traffic area). A simple colored sheet of paper can serve as a "base" for the day and weather magnet. Select simple weather images and print them out on paper to create cards similar to the days of the week cards. After you place the appropriate day magnet on your paper base, discuss the weather outside with your child and allow her/him to select the most suitable weather type. Sometimes weather changes throughout the day. Take this opportunity to discuss changing weather on a comprehension level appropriate to your child's learning level.

This is a great project for older children to make or help make using recycled materials such as blank one-sided junk mail, advertising magnets (which are easily cut to the needed size), or cardboard/card stock with a blank side (no printing).

What you'll need:

Card stock/cardboard or 3x5 index cards
Colored paper
Scissors
Tape
Glue or glue stick
Paper
Images of weather
Typed or hand written days (Sunday, Monday, Tuesday, Wednesday, Thursday, Friday, Saturday)
Weather images
Computer/printer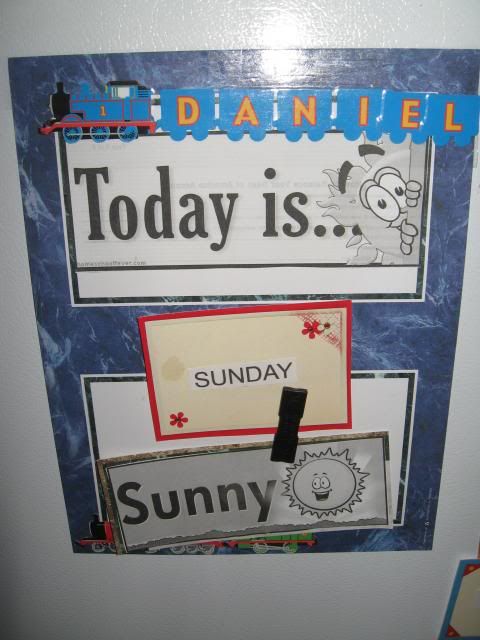 Select a colored or patterned piece of paper. I used an 8 1/2x 11 printed scrapbook papers. Allow the child to decorate it if desired. Type or write the words:

Today is…

Glue or write it on/to the paper near the top of the page.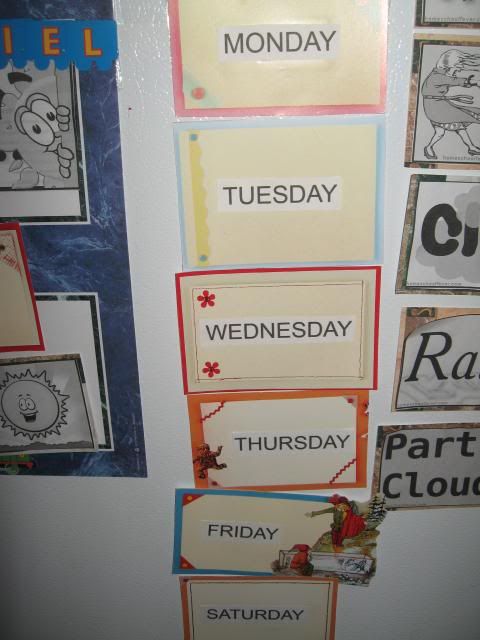 Type and print off, or write on paper, the 7 days of the week.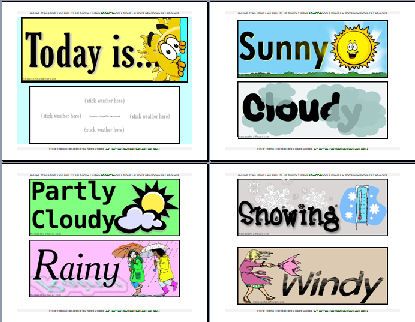 Draw, cut from coloring books/magazines, etc, or print off from the computer easily identifiable weather images. Simple is best. You don't want to make it confusing or have any doubt as to which weather concept is being discussed. I used this website:
http://www.homeschoolfever.com/daily-weather-poster-free-weather-cards/
Using index cards or cardstock/paper, (you can get as elaborate or as simple as you want), create foundation cards for the days of the week words and the weather images. Any size rectangle is good, but 3x5 is a good manipulative size for little hands.

Cut out and glue the days of the week and weather images to the foundation cards.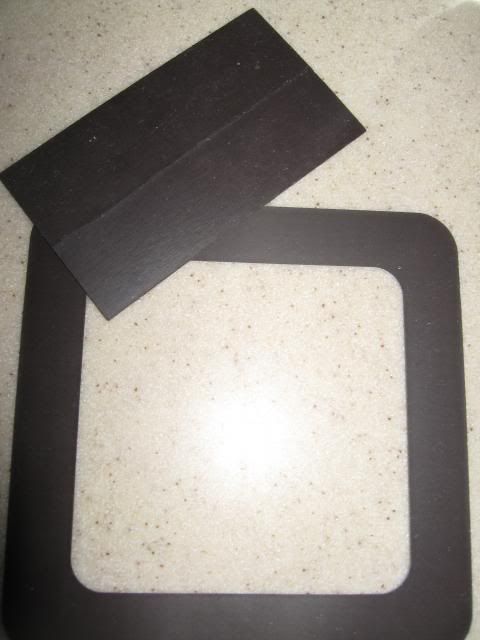 Glue magnets to the back of the foundation cards. I save those flimsy advertising magnets that come in the mail or that are given away free by businesses. They're easy to cut and glue nicely to craft projects. The only downside is occasionally the magnets will be too thin and too lightweight, requiring you to add another magnet if the weather/day card falls off the fridge.


Glue magnets to the back of the Today is…page. Or, just tape it to the fridge. 4 kids later, I have found that this sheet of paper gets a lot of bumping, smashing, and general havoc wrecked upon it. It's easier to just tape it to the fridge so it never comes off.

Every day, find a time that can remain consistent, such as before breakfast or lunch, etc, and assist the child in selecting the appropriate day of the week magnet, place it on the Today is…page; and discuss and select the weather image. At first, you'll be the one doing the majority of the selecting. Sometimes the child will decide there is more than one weather event going on – and they'll want to put multiple magnets up. As long as it's reasonable, go with it! Say the days of the week with your child every time you change the day, emphasizing today's day.

I have also used this project to teach the days of the week in Spanish and French. I made one set of English days of the week magnets, and one set of Spanish (etc) days of the week magnets. Every day we'd match the foreign language day with the English language day. It is a versatile teaching method that can also be adapted to months of the year and holidays.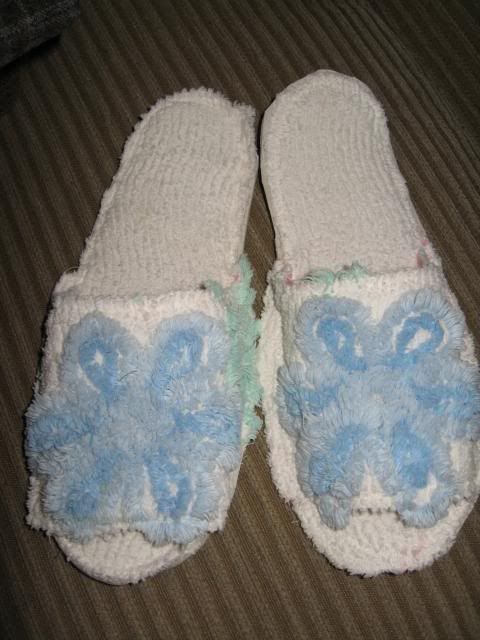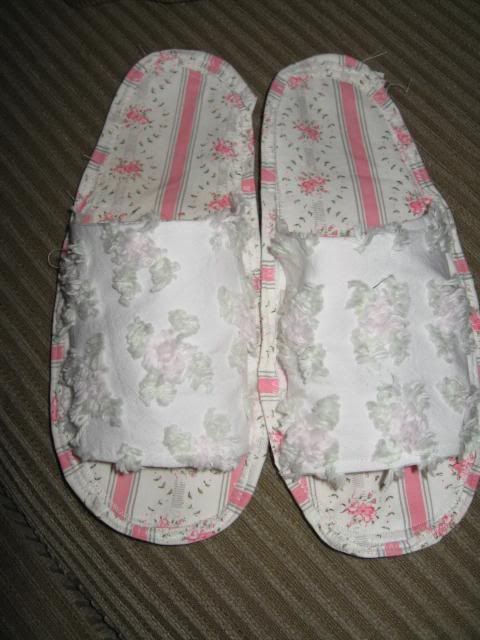 Sewing Easy House Slippers
I go through slippers pretty fast. I'm pretty much home all of the time, so I wear mostly slippers. I've tried purchasing expensive ones and cheap ones. It doesn't seem to matter how much I spend for them, they start wearing out around three months. It's not the soles that go, but the fabric. I wash them a lot. Air drying or machine drying – both methods take an equal toll on the slipper fabric.
Cue my last pair of slippers. When the fabric uppers finally separated from the rubber foam soles, I had it. I'm tired of plunking down $ every three months. So, I did what I do well and I studied the slippers really hard. Then, I got out my seam ripper and began to disassemble my ratty slippers. When I was finished I laid the pieces out on the table. Ironically, this one pair of slippers contained TWO rubber soles. One sole was sandwiched between the upper fabric and the bottom sole. Hmm…that means using the soles from the ONE pair of ratted out slippers, I could make TWO pairs of slippers.
The easiest way to sew new house slippers is to take apart an old pair and use the pieces as patterns. If you don't have an old pair, never fear – I am going to show you how to do it.
What you need:
Rubber foam or old slipper soles to reuse
Paper & pencil
Tape measure
Straight pins
Scissors
Fabric for slippers
Fleece or felt for slipper liners
Interfacing for slipper upper lining
Iron & ironing board
Sewing machine
Thread
To begin with,
make your pattern pieces
. You need
1 sole pattern
(you can flip it over for right or left, so you only need 1), and a pattern piece for the
slipper upper.
You can download mine and adjust the size to your own foot (I wear a 7-7 ½) and print it out OR you can free-hand it by tracing around your foot like you used to when you were a kid making hand and feet prints in art class. If you don't have an old pair of slippers to re-use the soles, like I did, you can find lightweight rubber foam at craft and/or sewing stores. You also might be able to find other sources like old placemats, etc.
The upper is an odd shaped piece that probably has a fancy shape name that Super Scientists know, but I am NOT a Super Scientist, so I will just call it a Slipper Upper pattern piece. Download, print, cut out. You can trace around it and make it bigger to fit your foot.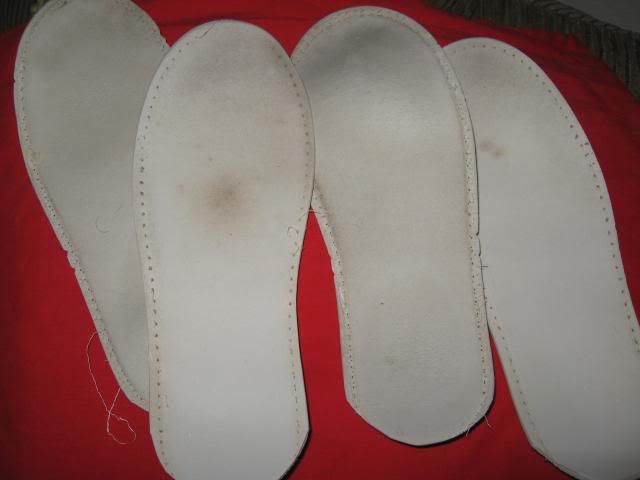 Cut a right and left bottom sole from the foam
.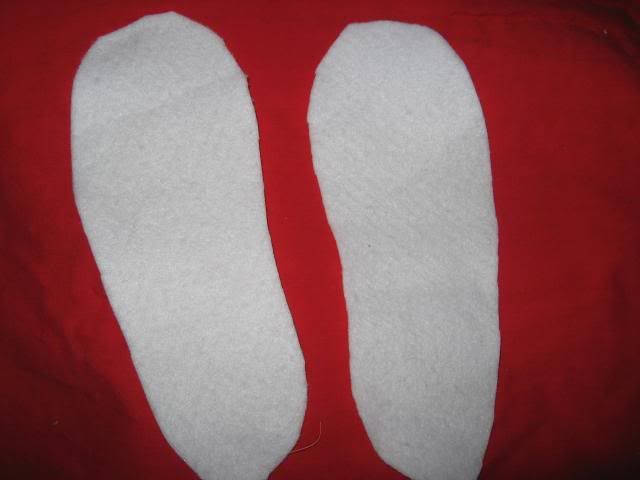 Cut a right and left bottom sole for a liner
– use an old fleece blanket, mattress cover, towel. I used part of an old pressed fleece type mattress cover. The liner will go between the foam sole and the fabric.
Cut a right and left sole
from the fabric you have chosen for your slippers. You should now have
6 sole-shaped pieces of fabric/foam
: foam sole, liner, fabric.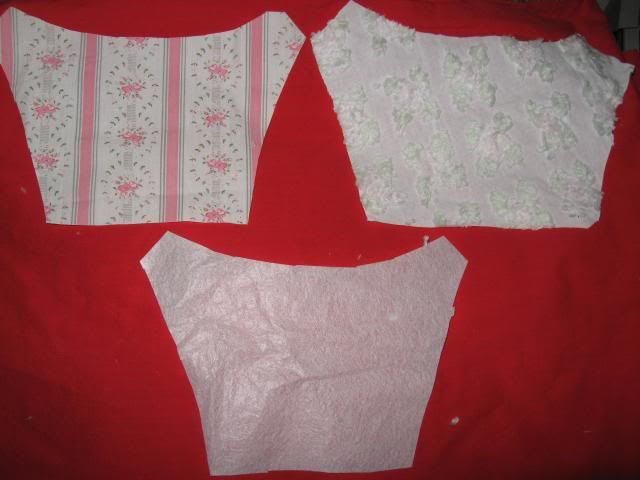 Now, you need to cut out the fabrics necessary to
form the slipper uppers. For each slipper, cut 2 pieces of fabric
that you have chosen for your slippers. I used a different fabric for the inside of my upper for variety.
Cut 2 pieces of interfacing
or fusible web interfacing or lightweight cotton. This lining will go between the outside and inside upper fabric to give the slipper upper some form. You will have
6 slipper upper shaped pieces of fabri
c when you are finished cutting.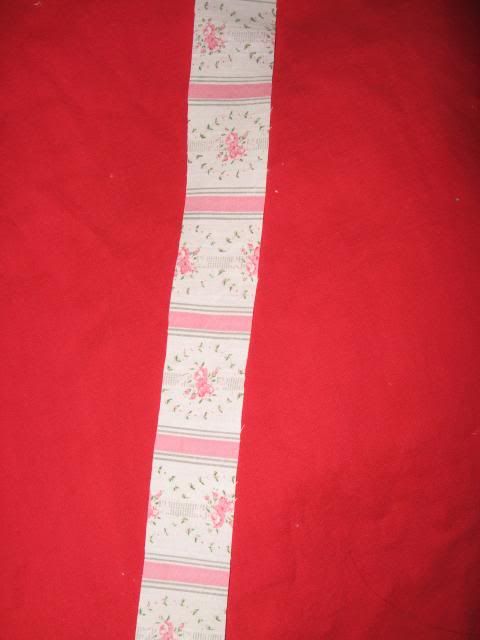 The edging on the slipper can happen 1 of 3 ways: you can use pre-made double fold bias tape, you can make your own matching double fold bias tape, or if you have more advanced sewing skills you can go back and cut a sole pattern piece that is about 1-inch larger than the bottom rubber sole and fold the edges under over the liner and between the rubber sole.
To make your own double fold bias tape:
Measure around the bottom sole pattern piece with a tape measure. Add 3-inches. Cut 2 strips of fabric 2-inches wide by the measurement around the sole+3-inches Long. If you're using pre-made bias tape, this is all you have to do for this step.
To create the double fold bias tape, with the print side of the fabric visible, fold each strip in half vertically and iron (you want a very sharp crease to go down the center of the entire strip). Open the creased fabric strips and position the strips so you are looking at the wrong side of the fabric (the "inside out" side). Now fold each vertical edge in until they align on each side of the center crease. Iron. You now have a strip of double fold bias tape for each slipper.
Please refer to the photos as assembling the slippers is really quite simple. I don't want to confuse things with too many words.
Assemble the slippers bottoms: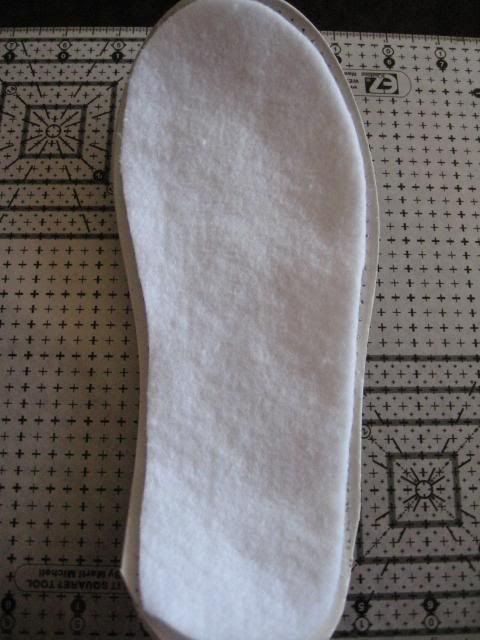 Place the rubber sole on the table.
Place the liner (fleece, towel, etc) piece on top of the sole. Place the slipper fabric on top of the liner.
Pin together.
Use the zigzag stitch on your machine to
sew the 3 pieces together
following the contours of the sole.
Using a ¼-inch seam allowance,
straight stitch around the contours of the sole
inside the zigzag. This provides added support on the seam and lets the slipper fabric lay better. Set aside.
Assemble the slipper upper: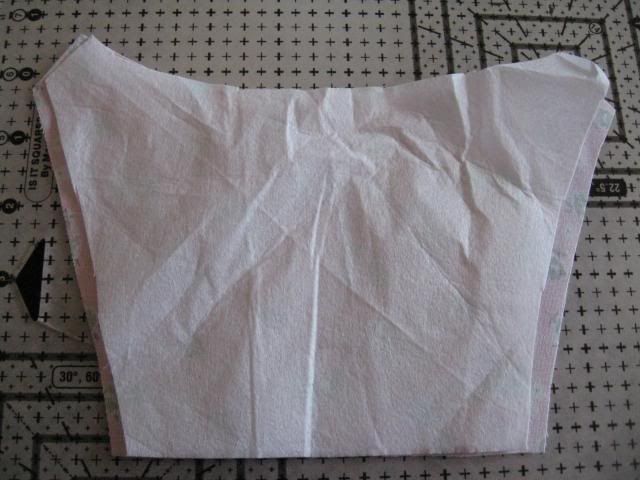 Place the
interfacing on top of the wrong side of the fabric
you have chosen for the inside of the slipper upper (the part that isn't visible, but touches the top of your foot).
Fold the fabric top and bottom edges about ¼-inch over the interfacing
and pin. Iron.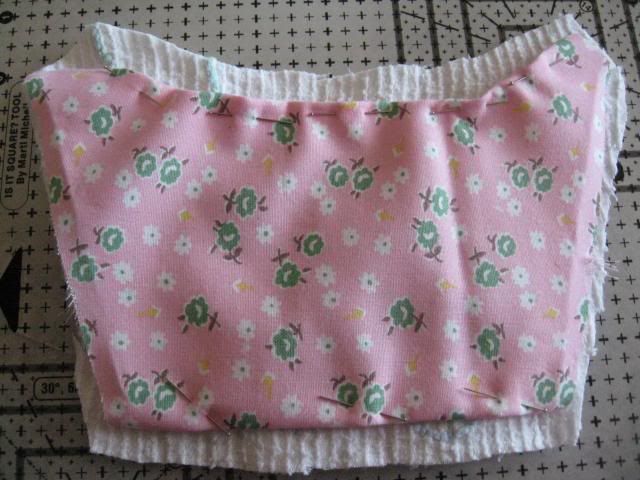 Place the pinned fabric/interfacing print side up onto the wrong side of the fabric
of the slipper upper that will be visible when you are wearing the slipper.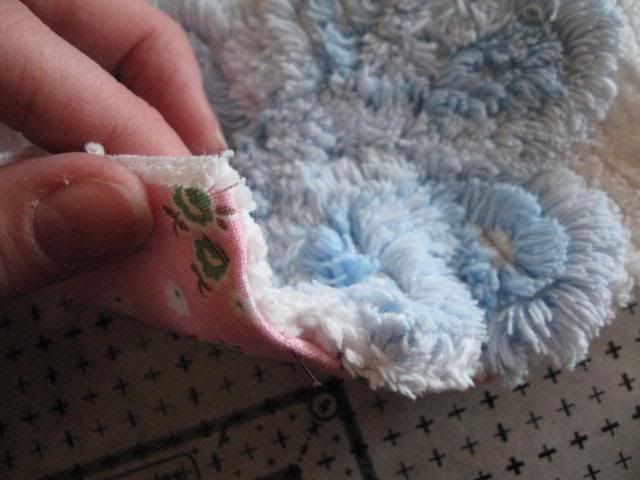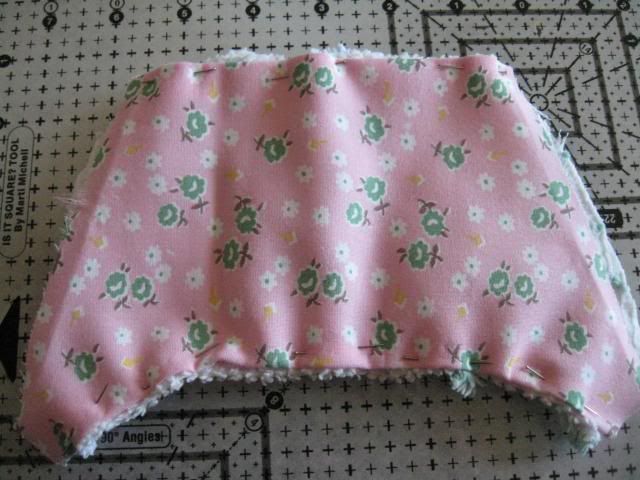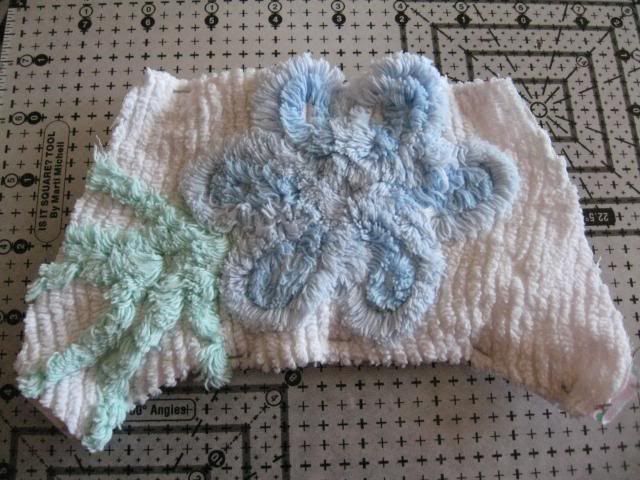 Fold the top and bottom edges of the fabric that will be visible when you are wearing the slipper under
¼-inch, pinning the edges to the already pinned edges of the interfacing/inside slipper upper. The interfacing will be between the wrong sides of both fabric.
Using ¼-inch seam allowance and the straight stitch feature on your machine,
sew along the top and bottom edges of each slipper upper
. Remove the pins.
Assemble the slippers as they will look when you are wearing them.
Fold the side edges of the slipper uppers under slightly and pin
together.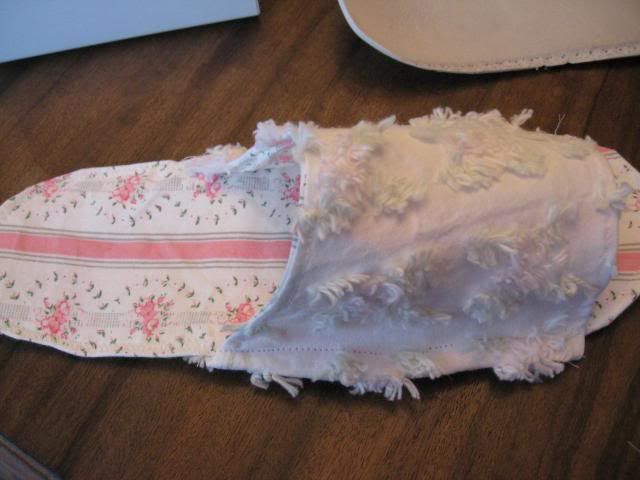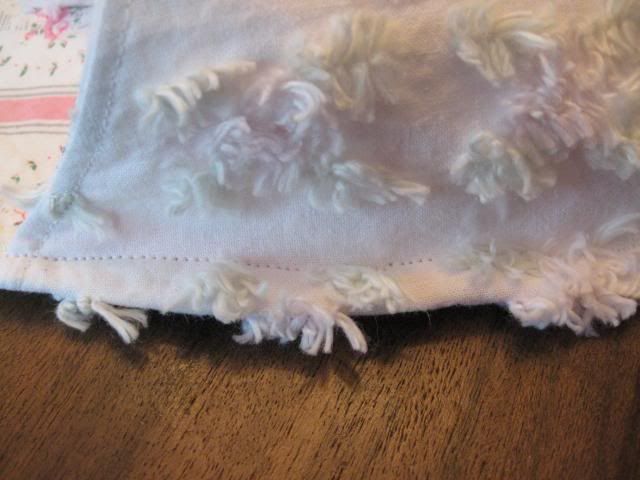 Using up to ½-ich seam allowance (you judge depending on your fabric/placement, etc), and a straight stitch,
sew the slipper upper sides to the slipper bottoms.
Slide the edges of the slippers into the fold of the double fold bias tape
, pinning as you go around the contours of the slipper. When your bias tape ends meet again, cut to fit leaving 1-inch to fold under so there is no visible raw fabric. Pin.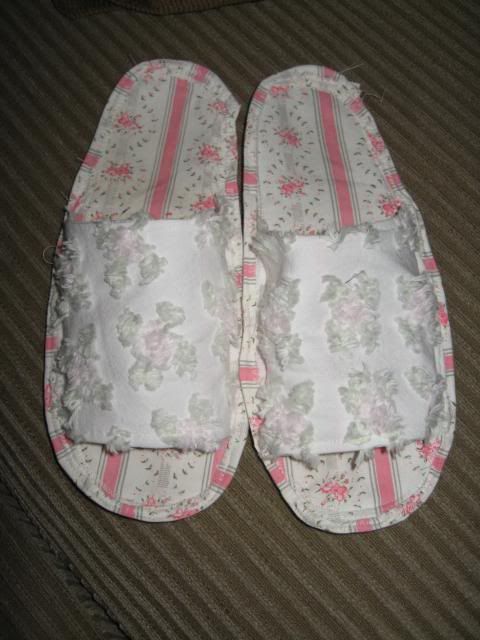 Using the widest zigzag stitch,
sew the bias tape to the slipper layers
, making sure you are catching the tape beneath the bottom sole, removing the pins as you sew.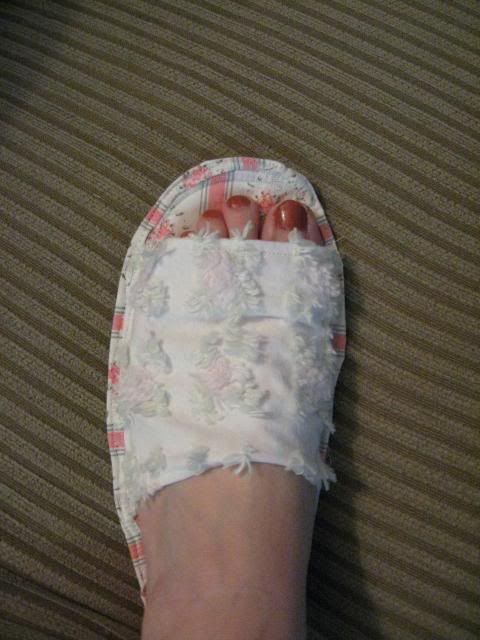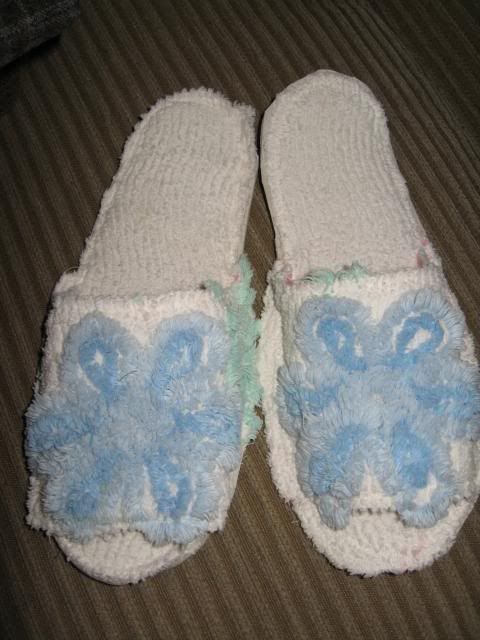 For
advanced sewers, to skip the bias tape
altogether, cut 1 sole pattern about 1-inch larger than the foam sole, snip the edges about ½-inch apart, following the contours, place the fabric sole on top of the lining, folding the snipped edges under and pinning. Sew, straight stitch or zigzag, the fabric, liner, and rubber sole together. Then sew and attach the slipper upper as directed.
Current Mood:

bouncy
Home-Crafted Liquid Dish Detergent
I researched and experimented with a lot of different recipes for liquid dish washing detergent until I tweaked them enough to come up with a version that I was happy with. Homemade dish detergent, like laundry detergent, is a low suds, low chemical version of store-bought liquid detergents. Store-bought detergents include lots of "things" that cannot be replicated at home. You can add glycerin as a hand softener, and anti-bacterial properties, but you cannot get the high suds yield you'll find in premade detergents. If you NEED the bubbles and suds, you might want to use this recipe as a "stretcher" and cut your store-bought detergent with this homemade detergent 50/50. You'll save some money as it will increase the amount of detergent for less and you'll get all your glorious bubbles. If you don't care about bubbles and foam and just want to clean your dishes, then the lack of bubbles of homemade detergent should not bother you.
When choosing anti-bacterial ingredients to include there are a variety of natural choices: lemon juice, geranium oil, tea tree oil, citrus oils (such as orange, tangerine, etc), lavender, and my favorite – eucalyptus. These ingredients provide fragrance as well as disinfecting abilities. The vinegar is also a natural anti-bacterial ingredient. I purchase my essential oils on ebay, but you can find them in craft, whole food, wholesale, etc stores. Be sure you're purchasing pure oils and not "scented" alcohol or "scented" liquid potpourri.
A couple of notes:
1) When I tested this formula and allowed my hand washed dishes to drip dry on the dish rack, I observed no film/soap residue on glass or plastic – however SOME metals – for me – non-coated pans – dried with a slight film. I simply buffed it off with a dry towel. I have not tested this detergent on silver or silver-plate. I did test it on my wine glasses with no soap residue left behind. 2) Detergent that is being stored and not actively used, will separate so there is clear water at the bottom of the container and all of the other ingredients will rise to the top. When you're ready to use the detergent, just give the bottle a vigorous shake to remix the contents. 3) White vinegar is a natural grease-cutter, but will not cut the grease on your very greasy pans like store-bought chemicals will. I had to wash my very greasy pan separately in very hot water and rinse/re-wash a couple of times to sufficiently clean. This is where cutting the homemade detergent with store-bought is sometimes helpful.
This recipe yields about
1 gallon of liquid dish detergent
.
What you'll need:
8 cups water
1 – 4 oz bar of soap (I used Ivory)
2 cups white vinegar
½ cup Borax
¼ cup baking soda
½ cup washing soda (I use Arm & Hammer – this is not the same as baking soda. You can find washing soda in laundry aisles in stores).
1 Tbs glycerin (optional)
25-30 drops essential oil or ¼ cup lemon juice (fragrance/anti-bacterial)
Food grater
1 gallon container
Funnel
Sink/tap water
Very large pot (holds 2+ gallons)
Mixing spoon
Recycled dispensers or detergent bottles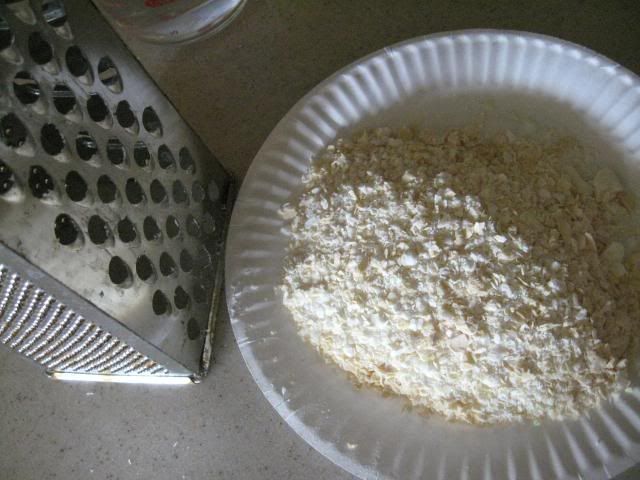 Grate your soap on a food grater such as a potato grater. I use Ivory, but any bar soap will work.
Boil 8 cups of water in a very large pot.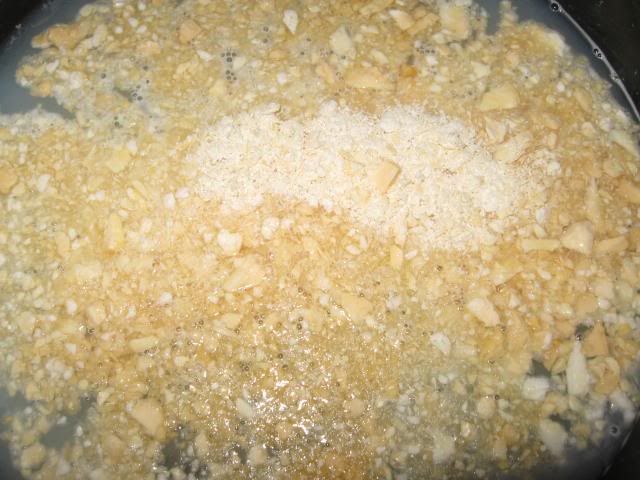 Reduce the heat and add the grated soap. Add vinegar and continue stirring until the soap is dissolved.
Turn off the burner and remove the pot from the heat. Slowly sprinkle the baking soda into the mixture – very carefully as the baking soda will foam when it hits the vinegar mixture in the pot. This is why you need a BIG pot!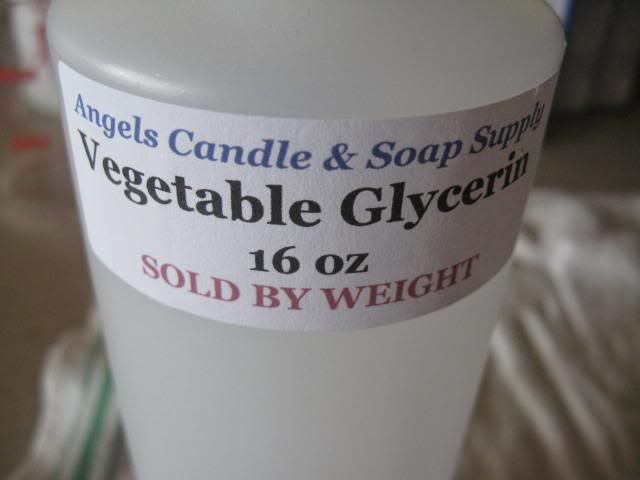 Add all other ingredients, continuously stirring until all ingredients are dissolved. Glycerin is added as a skin moisturizer and also acts as a mild thickener in the detergent. It's purely optional and the outcome of the soap will not be affected if you choose to leave it out. I purchase my vegetable glycerin from a seller on Ebay as I use it in a number of homemade products. If you notice in my photos, I was in a hurry and didn't entirely wait for all of the soap to dissolve. This resulted in some soap clumps – which don't bother me. If your soap clumps and you don't like the look of it, you can pour it into a blender when it's COOL and churn it until smooth. Personally, I don't care what it looks like as long as it gets the job done.
Allow the hot solution to cool a minimum of 15 minutes. Add the essential oils and stir. Make sure the liquid is not hot enough to melt the container you are going to be pouring the soap into. Let it cool to at least room temperature before pouring to avoid burns, etc.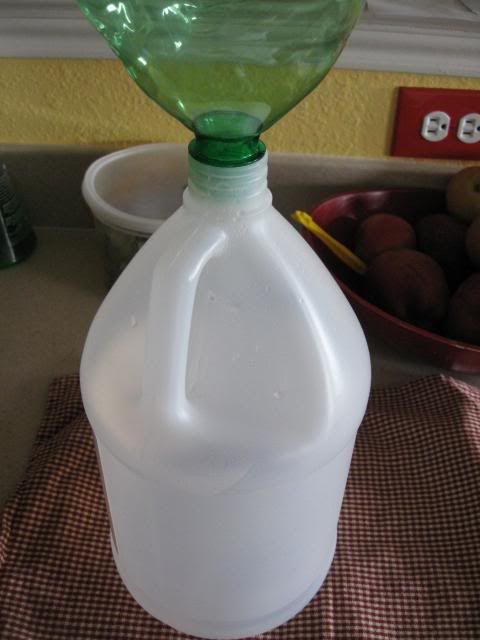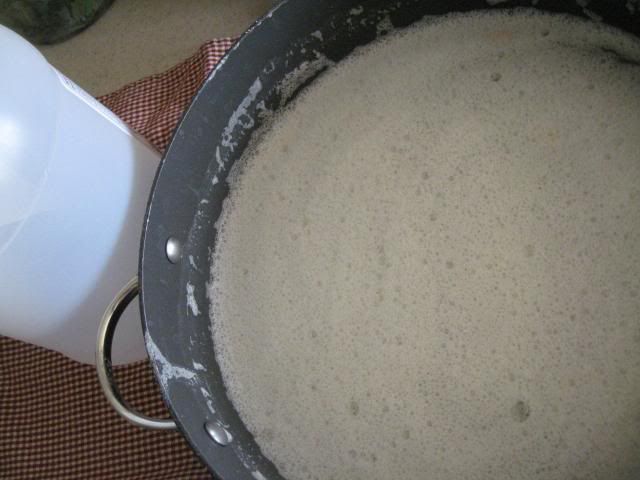 Use a funnel to pour/ladle the soap solution into a 1 gallon container. Fill the rest of the container with hot tap water (usually around 6-8 cups of water depending on how much of your solution evaporated, etc). You also can dilute the soap with white vinegar instead of water if you wish, but I chose to use water.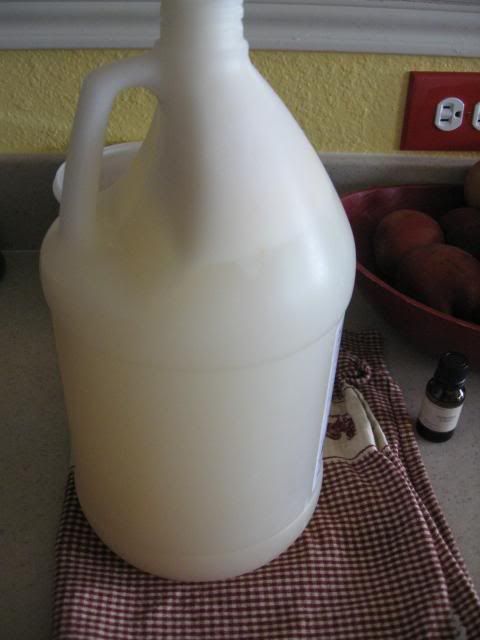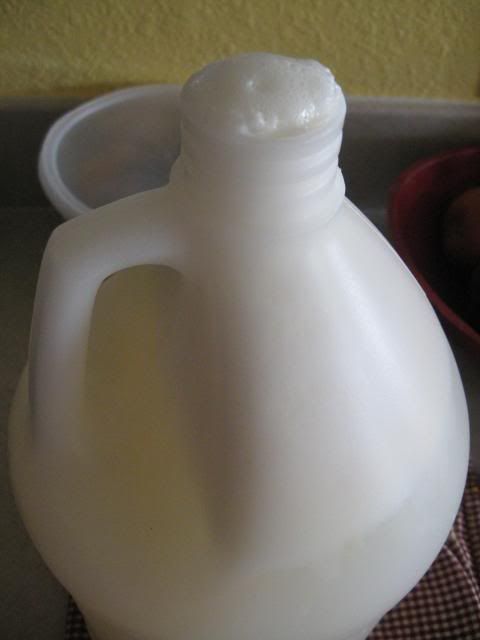 Allow the liquid dish detergent to sit overnight. The detergent will gel a little bit, but will not be solid. If it is more solid than you desire, dilute with ½ cup water at a time until it reaches the desired consistency. In my test runs, the detergent never got undesirably gelatinous. If you think the fragrance is not strong enough for your preferences, add more oils and shake until you achieve the fragrance strength desired.
Pour or ladle the liquid dish soap into dispensers and/or recycled dish detergent bottles.
Teaching Math to Infants and Toddlers/Preschoolers
I am not a fan of math. The subject caused me untold misery throughout my life, brought down my grade point average in high school and college, and overall just sucked. I used to joke with my former husband that I married him solely to balance out my seemingly math-deficient gene pool for my future children.
Before my biological children were born I read over 400 books on infertility, pregnancy, fetal development, labor & delivery, and infant/toddler/preschooler/child development/psychology. And why shouldn't I have? I studied for 4 years to prepare for and obtain a teaching license. Why shouldn't I take as much time and concern to prepare for parenthood? Parenting my children is my most important career. If I performed poorly on a test in school, I could make it up somehow – extra credit, do better on another assignment, take the class over if need be; but there are no "do-overs" in Mommy world. If I perform poorly as a mother, my child reaps the consequences. I looked at my future role as a mother as THE most important thing I would EVER do in my life.
During this research, I realized that though I suffered through math and had failed to obtain the foundation I needed to see success in that subject, there was no reason why my children had to perpetuate my failure. But how to remedy that? Well, short of mingling my creative/artistic genes with a mathematically-gifted gene pool – which is never a sure bet, yes, it increased the odds, but there was no guarantee my offspring would inherit that mathematical gift. So…I went to what I knew: teaching.
Babies come into this world with a mind like a dry sponge. From the moment they open their eyes against the harsh light of the environment outside the womb, their mind begins sucking up information. Their mind begins storing data like a computer. Everything goes in: texture, sounds, color, tastes, and images – all of it. Studies have shown that even BEFORE birth, babies respond to familiar voices, touch, and in some cases, the food the biological mother consumes.
My first step in educating my children began in utero. I gathered all of the textbooks my former husband and I had in the house. Then I scoured the shelves of used bookstores for other subjects. Then, for at least an hour a day, I read out loud from the textbooks: Physics, Calculus, History, American Literature, Computer Science, Journalism, English Grammar, Spanish, Russian Literature, British Literature, Biology, Oceanography, Political Science, Art Appreciation, Psychology – and any magazines we happened to subscribe to (Archeology, Smithsonian, Time, Guitar Digest, Guns & Ammo, lol) Of course, there's no way to tell if those early readings helped or not, but I needed to lie down anyway, I would have been reading a book anyway – so – what could it hurt?
BUT…I realize everyone isn't as dedicated to textbook reading, or as comfortable with their own voice in a quiet room as I might be. So, you have this baby/toddler/preschooler here NOW…
How do you teach your child math skills?
START AT BIRTH: Numbers 1-5
Why numbers 1-5?
Most babies/people
(No jokes please. Do not take for granted that you or your child is fortunate enough to be born with all digits. I cannot count how many children we reviewed during our adoptions who, through fetal issues or grievous injuries, were not so fortunate)
have five fingers on each hand and five toes on each foot. It's the natural number to begin with because most babies have concrete examples right there on their body.
Baby does not know what you're doing, but that's okay.
REPETITION is the key. COUNT EVERYTHING.
When you're diapering: count their toes. If you're clever enough, sing the numbers to a traditional children's song: Mary Had a Little Lamb, Row your Boat, Twinkle Twinkle Little Star, etc. As you count, show the baby his/her finger/toes, saying the numbers with each touch. 1, 2, 3, 4, 5. When you're having bottle/nursing time – count babies fingers. Count your fingers. When you're playing, count/hold up five stuffed animals, toys, diapers – whatever – just make counting part of your together time. Over and over and over again.
5-6 MONTHS
At 5-6 months, buy board books that have numbers (and alphabet, but that's a different post
J
) or use/make flashcards. I used a lot of flashcards. Designate 15-20 minutes at the SAME TIME every day for "school time". Baby doesn't know it's school time. Baby thinks it's mommy or daddy time. THAT is the key. Look at the book – or make flashcards with colorful photos you cut from magazines (See post for
making flashcards
:
http://angelinehawkes.livejournal.com/150266.html
). Count. Count. Count. Sing. Sing. Sing.
When baby begins eating solid food, count bites. Count bowls. Count spoons. Count teddy grahams, snacks, whatever he or she is eating. Line the food up. Count it. Count it as the food goes into their mouth. Count it as you hold it out for them. Count it as you take it out of the box.
Find a way to count EVERYTHING. 1, 2, 3, 4, 5.
1 YEAR
At 1 year, it's
time to start making baby interactive
. I know you're saying, "What? But my baby isn't talking!" Some babies aren't. Your child does not need to be verbal (talking) to count with you. Babies comprehend language before their bodies are mature enough to vocalize. Both of my biological children could count to 5 at age 1 year. Some babies can hold up fingers and will instead of talking, or will with talking. Incorporate counting fingers into the game, use baby's hand and your own to demonstrate.
Food is the easiest and most productive manipulative (thing to count) in my opinion. Why? Because with food there is something to count, and a reward in the end.
ALWAYS GIVE THE CHILD THE COUNTING FOOD AT THE END OF YOUR COUNTING SESSION REGARDLESS OF THEIR PERFORMANCE. There should be NO punitive measures against a child for failing to comprehend or demonstrate. The key to success is REPETITION, FUN, TOGETHERNESS, and REWARD FOR BABY.
Get down on baby's level. At a little table, on a blanket, etc. You should have FIVE of something baby likes to eat. We used goldfish crackers the most. Only five. Be prepared for some tantrumming until baby catches onto your SAME TIME EVERY DAY program. For the first few times, baby will just want to immediately EAT the tools. Baby's internal clock will set itself to "fun time with mommy or daddy". This is very important. In today's world, so many families are running all over tarnation. Children thrive on consistency. Obviously, you won't be on the minute every day. Not an issue. Strive for the same time. For us, it was around 2 pm, after they woke up from their nap after lunch meal/bottle.
Line up the 5 crackers (You use whatever you want. I'm using crackers for my example). I printed out a colorful sheet of paper that had the numbers 1-5 in circles. This visual sheet allowed baby to visualize the number in addition to learning to count the number. Whenever you can combine skills/senses, do it as it increases learning opportunities. I would put the 5 crackers, 1 on each numbered circle.
Now, count them, pointing to the crackers while saying the numbers. Take baby's hand, and help her/him point to the crackers while counting. Use bowls, cups, etc to drop the crackers, one by one into, while counting. Hold the bowl, give baby one cracker, have baby drop it into the bowl (replace it if baby eats it). Count while baby drops it into the bowl. I would do this for 10-15 minutes, depending on baby's tolerance that day.
When you're done counting, be VERY EXCITED and PRAISE baby for their GOOD COUNTING. Then let baby eat the crackers – while counting them for baby. Clap your hands, use your "oh my god this is the greatest thing EVER in the WHOLE WIDE WORLD" voice, and make a big deal out of baby counting EVERY TIME.
Babies want to please. If they see that they have done something very important and good, plus they get to eat something yummy, they will want to do it again.
About once a week, try to make baby take the lead. Put the crackers on the paper, etc, and tell baby: "YOU count the crackers for mommy/daddy! Can you do it?" This is where the repetition pays off. Baby has watched you, and watched you, and watched you count the crackers. At first, baby is mimicking you. They're like little monkeys. They might not yet get WHY they are doing what they are doing, but they begin to do it because they copy what they've watched you do. Continue to count everything and anything everywhere you are and go. I even sang counting songs for lullabies.
YOU vocalize for baby or with baby if your baby is talking. Count while baby "counts". My oldest son was very verbal and would say the numbers (not always in the right order). My oldest daughter was not very verbal. She would point to each cracker and grunt, while I counted. That's okay. She THOUGHT she was saying the number. For all I know, she WAS saying it in her mind. The key is to develop a sense of success in your child's mind. If you're successful at something, and there is a promise of a reward, you want to do that something over and over again because it feels good. That success builds your confidence. The same thing works for baby.
When mommy or daddy comes home from work, in the presence of baby, you should relate this HUGE accomplishment. Baby counted to five today!! Maybe baby didn't. Maybe baby bashed each cracker with his fist and then licked the crumbs off the Little Tikes table like some kind of creepy licking demon-possessed horror movie baby….but BABY needs to think he's counting to five and that he's the smartest, most clever, most awesome baby in the whole wide world.
2 YEARS
By 2 years, baby can perform simple addition. No, my kids were not writing math problems on papers. They demonstrated with M&Ms, teddy grahams, gold fish crackers, etc. Place 1 cracker on the table. Count 1. Have toddler count it. Put another cracker on the table. Say: 1 + 1 = 2. Push the crackers together. I stayed with 1+1=2 until toddler could do it on his/her own. Then we moved to 1+2=3, and so forth. Again, repetition. At 2 years old, I also introduced numbers 6-10, so toddler was now learning to count 1-10. We sang "1 little, 2 little, 3 little" (replace the now not so pc "Indian" with whatever it is you're counting) everythings lol. Bath time, reading time, bed time, clean up time – whatever. Sing the song. Count. Count. Count. Make it into a game. Hold up 3 toys and ask baby to count them. Do this randomly throughout the day. Always test baby. If they're comfortably counting to 4, nudge them just a bit, and sometimes hold up 5 toys. Toys are great for learning. Look around. Many of your child's toys already have numbers on them. Play computers, cash registers. My youngest son's favorite toy was his pretend telephone. We counted numbers on his phone all the time.
REPETITION & REWARD ARE THE KEYS
Okay, you're saying. Well, ain't that special. So you got yourself a couple of smart kids. Super. This can't work for every kid. Well, here's where my little educational foray gets a little more exciting. I didn't stop at 2 biological children. I also have 2 adopted children. Gene pools entirely unrelated to mine by race, ethnicity, country, language, you name it. Not only was there no chance of crossed genes, but both children came to me speaking a language in no way similar to mine (English): Korean and Chinese.
My youngest son came to me at age 17 months old. My youngest daughter was 6 ½. Talk about having to change horses in mid-stream!
Immediately I started in with my youngest son. I started doing the same things I did with my 5-6 month-old babies, only he was 17 months old. Because he was older, he caught on faster, so we moved through the stages at a faster pace. Now, he'll be 5 years old in 2 weeks and is working addition and subtraction problems involving numbers 1-15.
I obtained custody of my youngest daughter on July 18, 2011. I immediately started in on her even though she had NO idea what I was saying. I began counting everything. Over and over and over she heard me counting 1-10. I skipped the 1-5 stage and went straight to 1-10 due to her age, and memory skills. I sang numbers and letters to her all day in the hotel. I sang colors and shapes, and pointed to colors and shapes and said the English words. Mostly I sang numbers and letters – over and over and over again. She just thought I was singing. I knew I was uploading data into her brain.
My youngest daughter came home from China on August 1, 2011. She had to begin Kindergarten on August 20, 2011. I had 20 days to get her to a functional level. I employed the assistance of my two older children, in addition to my husband. EVERYTHING became an educational game. In 20 days, she learned how to SAY her name (we combined an English name with her Chinese name), WRITE her name, the alphabet (and some of the phonetic sounds), numbers 1-10, and the words/meanings of what I indentified as basic survival words: yes, no, hello/goodbye, potty, food, and water. She is now in first grade and is performing on, and in some instances, a little above, grade level.
This didn't come easy. Her Kindergarten and ESL teacher worked with her at school. We worked with her at home for 1-2 hours every day after school. We worked with her for 3 hours, 4 days a week throughout the summer between her Kindergarten and 1
st
grade year. Her 1
st
grade and ESL teacher are working with her at school. And, until December, we worked with her an hour at home every day after school and on weekends. We have eased off now, and are letting her learn at a slower pace, confident that those crash course skills we all worked so hard to teach her are doing the job.
We used a LOT of flashcards with her. Flashcards for numbers, alphabet, colors, shapes, everyday items (furniture, clothes, food, etc), senses, body parts, etc. For her, much of it was language development. She knew her colors and shapes – she just needed to assign the English words to them.
But, again, I used the same techniques, repetition and rewards that I used with my 5-6 month old babies, to introduce counting with her. With a slight twist, coming from a neglected past of malnutrition, it was hard to convince her that she was ALLOWED to EAT the counting treats. I had to sit and count each one she ate. If I simply pushed them across the table after praising our session, she would leave them there. So, we counted each one she ate too. She counted socks, toys, crayons, even the number of times the basketball went into the hoop. Counting opportunities are everywhere.
Fingers, toes, food, toys – whatever you have to count, use these objects to introduce and then reinforce the presence of numbers, and later the concept of addition/subtraction with your babies, toddlers and preschoolers. Repetition and reward.
Give your children a happy, confident foundation in math and math concepts to take with them to school – but don't let it end with school. YOU are an important factor in their education. The same techniques of repetition and song that you use when they're babies to teach counting can be taken with them as far as college and beyond. Spelling words, science terms, whatever – all are easily remembered, memorized and utilized when learned to a tune, and sang over and over again.
Learning is a lifelong journey. Lay a confident foundation for your children as early as you possibly can.


Finally, don't forget the internet is an excellent source of free, printable worksheets and exercises geared toward early learning. When my children were babies, I had to make my own material. The internet has opened a whole world of opportunity to parents and care providers in the form of free educational idea sites and printable material. Some websites, but not limited to these, where good, quality material can be downloaded: Enchanted Learning, TLS Books, Kids Learning Station, Jump Start, Education.com, Kidzone, etc. Use a search engine to search for free, printable toddler or preschool worksheets. Searching for more specific concepts will also bring up exercises, such as toddler counting, shapes, etc.